Success Story



Alaska Tribal Broadband | 8'x10' Hybrid Power Shelter | Unalakleet, Alaska
Powering Vital Systems During A Typhoon!
"During the storm, power was down, but thankfully HCI's integrated Hybrid Power Shelter was able to immediately power the communications equipment for four days and could have kept running for several weeks." -Harold Johnston - ATB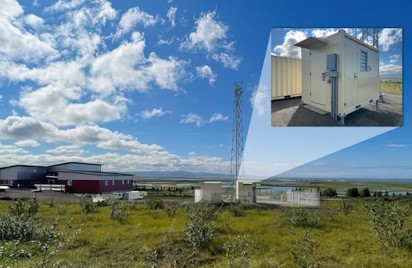 Alaska Tribal Broadband, a native-owned Alaska Corporation, is establishing reliable, affordable broadband services in Alaska's remotest locations.



Reliable Power In Rural Environments
Throughout Typhoon Merbok, the worst storm to hit Western Alaska in decades, the indigenous people of the remote village of Unalakleet had crucial internet connectivity thanks to HCI Energy and Alaska Tribal Broadband.
Just weeks before the storm, Alaska Tribal Broadband had installed a turnkey Hybrid Power Shelter™ from Kansas City-based HCI Energy. The hybrid shelter houses the broadband company's satellite telecommunications and electronics equipment combined with HCI's Zero-glitch Power Module™ (ZPM™) power backup system with lithium-ion batteries. The shelter also contains a diesel generator with 100-gallon fuel tanks, electronic systems to power the Unalakleet radio system and intuitive remote control and analytics.
HCI's engineers built and proof-tested the portable shelter with the required power and communications equipment at their Kansas City facility before shipping it to Anchorage.
With HCI Energy's reliable backup power solutions, the village was able to accomplish ongoing backup power that encouraged:
Continuous connectivity for Unalakleet's entire village, even in the worst conditions
Reliable emergency backup
Pre-configured solution, quickly and easily deployed
Upgraded insulation package
Lowered maintenance costs
"

A great advantage of working with HCI Energy is that they understand power and telecommunications and can pre-configure and integrate the required equipment within the shelter before it ships."
Founder and President of Alaska Tribal Broadband
"This was our first install in Alaska, and we couldn't be more pleased with the performance of our Hybrid Power Shelter for the villagers of Unalakleet during the powerful storm," said Kurt Armbruster, CEO of HCI Energy. "Working in partnership with Alaska Tribal Broadband to build out Tribal-owned networks in remote villages in Alaska is very rewarding. Our robust and climate-controlled Hybrid Power Shelter is essentially a Central Office. Due to its smart design, the shelter can be configured with the necessary telecom gear with fully monitored power equipment and outfitted with an attached pole to support a 50-foot radio antenna if needed."
To learn more about this success story, please check out our press release.
Ready
Self-contained and pre-configured. No assembly required. Delivered ready to transport to any location.
Reliable
Uninterrupted power – the latest power technology, real-time power management, and remote monitoring.
Renewable
Solar, wind, and renewable energy sources efficiently minimize CO2 and GHG emissions.
Efficient
Pre-configured, self-contained solution speeds up deployment time. Easy install. Low-maintenance.
We Design Reliable Solutions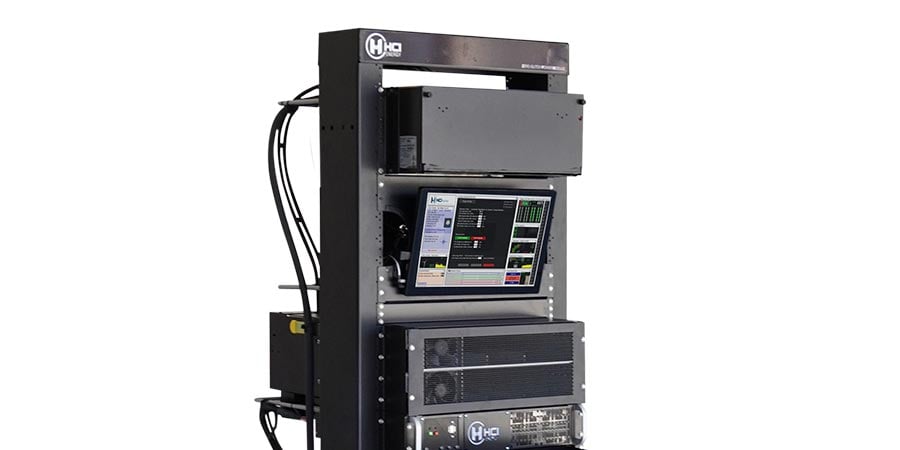 Zero-glitch Power Module™
The Zero-Glitch Power Module™ (ZPM™) gives users the most advanced power backup yet. The heart of HCI's Hybrid Power Shelter is the ZPM, a smart energy storage control system that ensures you experience seamless power delivery whenever you need it.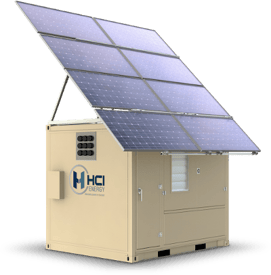 Hybrid Power Shelter™
Our Hybrid Power Shelter stands head and shoulders over traditional battery backups. Featuring a powerful DC genset that runs on diesel or propane, solar panels, and an optional wind turbine, the Hybrid Power Shelter can keep you running through any outage.