We Design Solutions
Introducing a portable hybrid power plant with intelligent controls that delivers reliable energy to any site anywhere in the world, regardless of power grid accessibility
Change the way you think about backup power with the ZPM®
The ZPM® (Zero-glitch Power Module) is the heart of HCI Energy's Hybrid Power technology. This intelligent control system orchestrates energy sources (grid, local generation, wind and solar) to manage state of charge of smart Lithium-ion energy storage. Includes remote control and remote analytics.
Comprehensive graphical view of the system configuration status and historical performance.
Bi-directional power converter (inverter/rectifier) N+1 or N+2 redundancy.
Serviceable Load: 1 kW to 100 kW
Energy Storage: greater than 200 Ah
25.5"L x 84"H x 19"W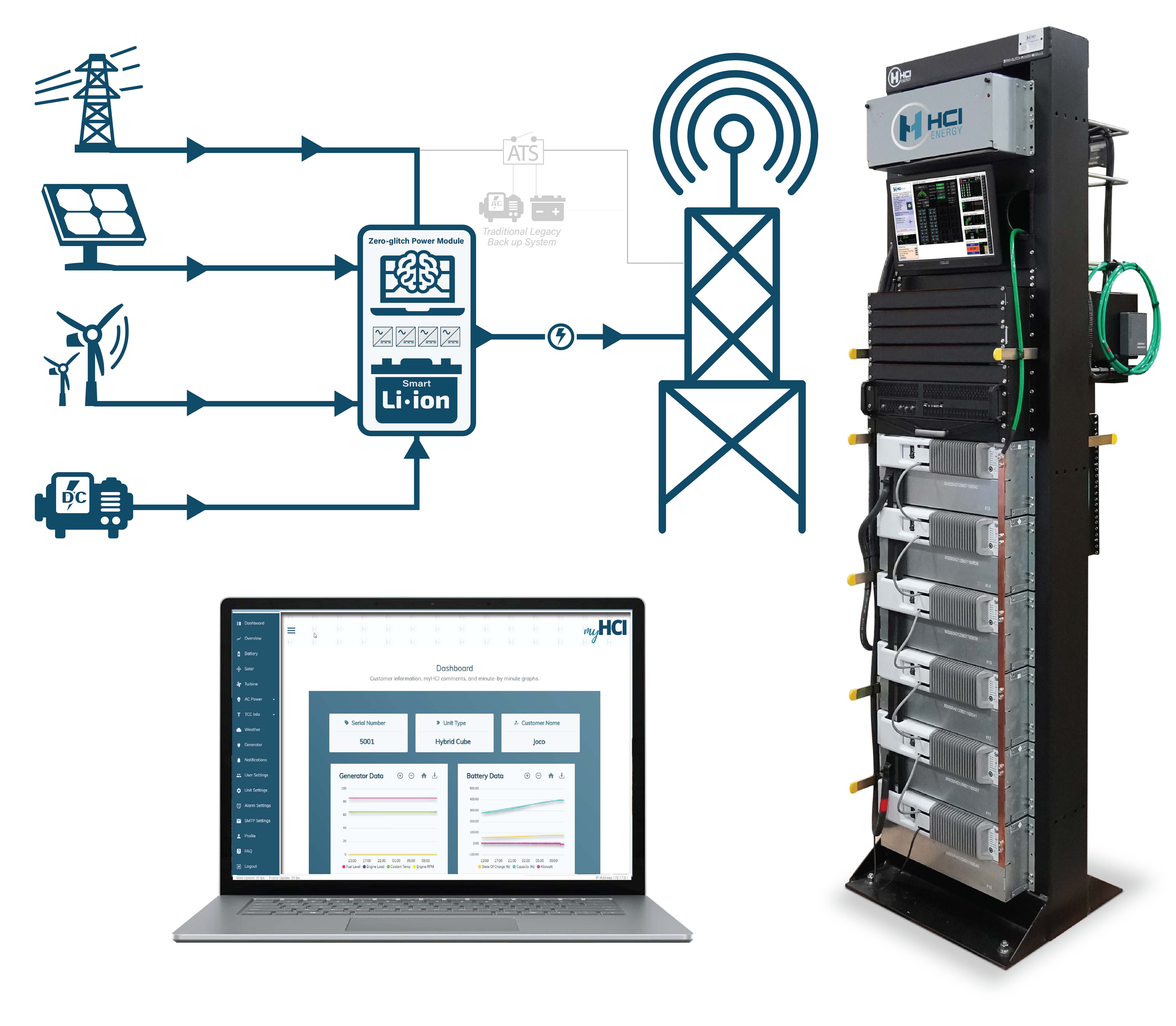 Eliminates Transfer Switch • Manages State-of-Charge • Prioritizes Energy Sources
Autonomous Operation • Remote Control • Remote Analytics
HYBRID POWER SHELTER™
Formerly the Hybrid Cube® Delivers efficient, ultra-reliable power, on- or off-grid. This turnkey solution can integrate wind, solar, batteries and DC gensets within a climate-controlled end-user space. Each shelter is custom manufactured and structurally engineered to conform to ISO container dimensions for easy shipping, installation, deployment and manufacturing. Completely manufactured with equipment installed and tested prior to delivery.
• 8'x10' Turnkey Shelter
• ZPM™ (Zero-glitch Power Module)
• Smart Energy Storage
• DC Genset
• User Equipment Rack
• Plug and Play Renewables
Serviceable Load: 5 kW to 20 kW
Energy Storage: greater than 200 Ah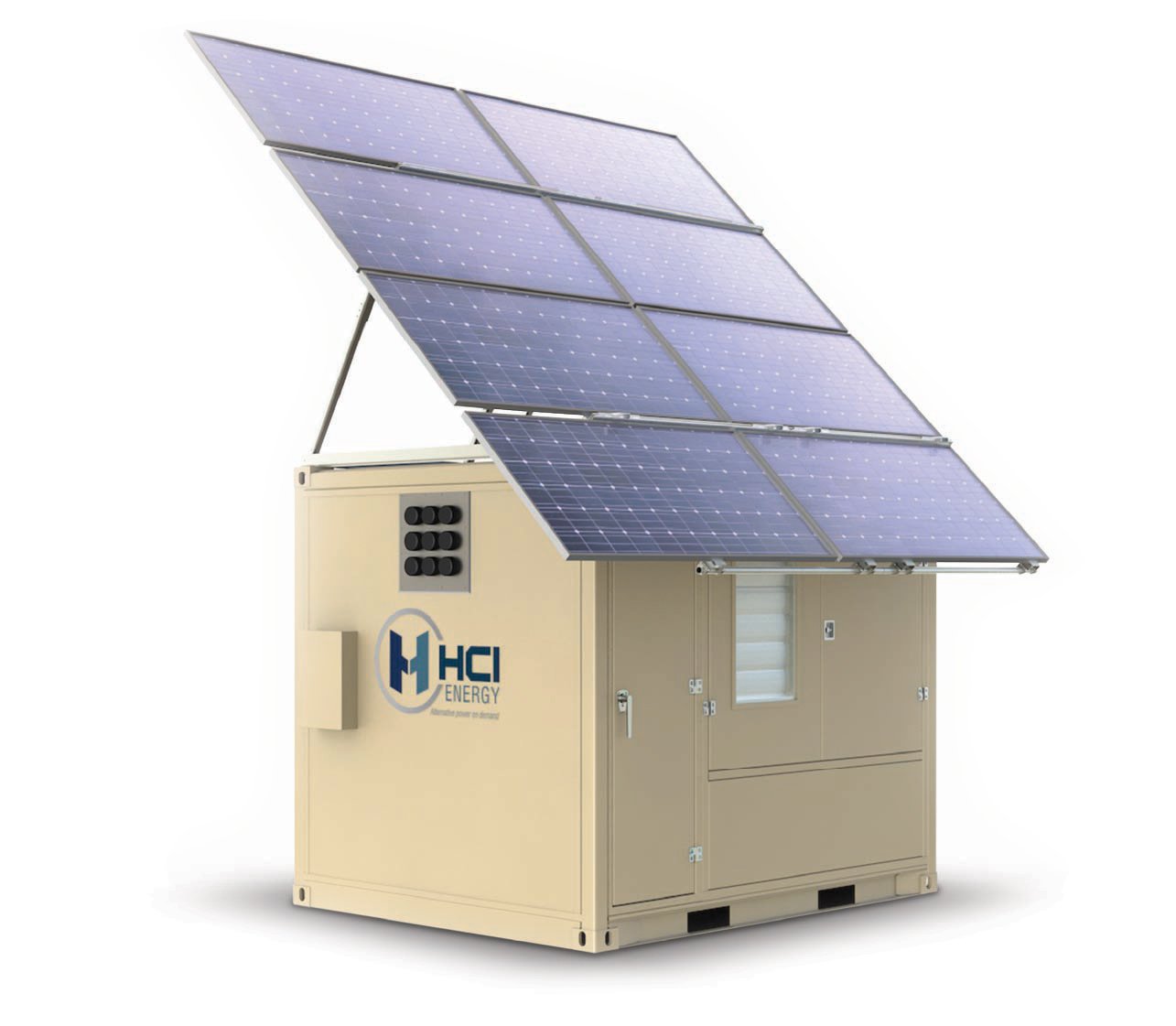 Configuration 1 - Grid Tied 5kW
Provides Infinite Backup with Ongoing Energy Savings
• 400Ah Smart Energy Storage
• 250A DC Genset (diesel or propane)
• 3kW Onboard Solar
Configuration 2 - Off Grid 5kW
Estimated 70-90% Fuel Savings*
• 2500Ah Smart Energy Storage
• 425A DC Genset (diesel or propane)
• 17.4kW Solar (3kW Onboard w/14.4kW Outboard)
• Optional 2.4kW Wind Turbine

MODULAR EXPANSION SHELTER
The Modular Expansion Shelter provides additional space for various configurations. Based on the site requirements the Expansion Shelter can be added to the base model 8' x 10' Hybrid Power Shelter to accommodate additional battery storage, end-user equipment racks or alternate uses such as freezers or office space.
10'L x 8'W x 8'-6"H
Custom manufactured and designed to ISO container specifications.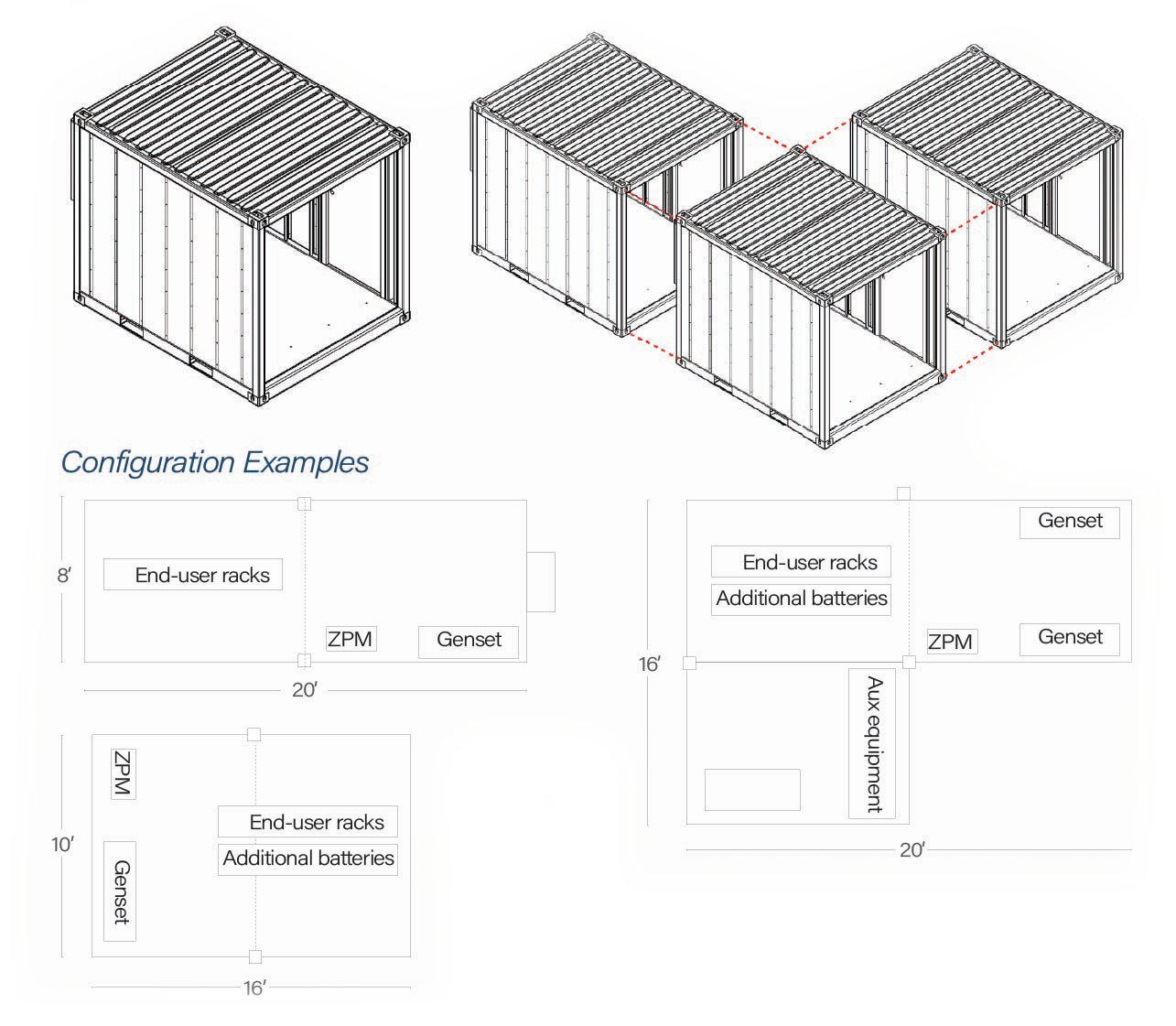 SOLAR PANEL OPTION
The solar panel option provides additional hybrid energy to offset use of the DC genset. The solar panel option is engineered for transport and quick deployment. Stand alone solar panels are also available for off board use typically required for off-grid sites. Each array includes built in charge controller and smart controls.
13.5' x 10.5'
Peak Power: 3.6kW per 8 panels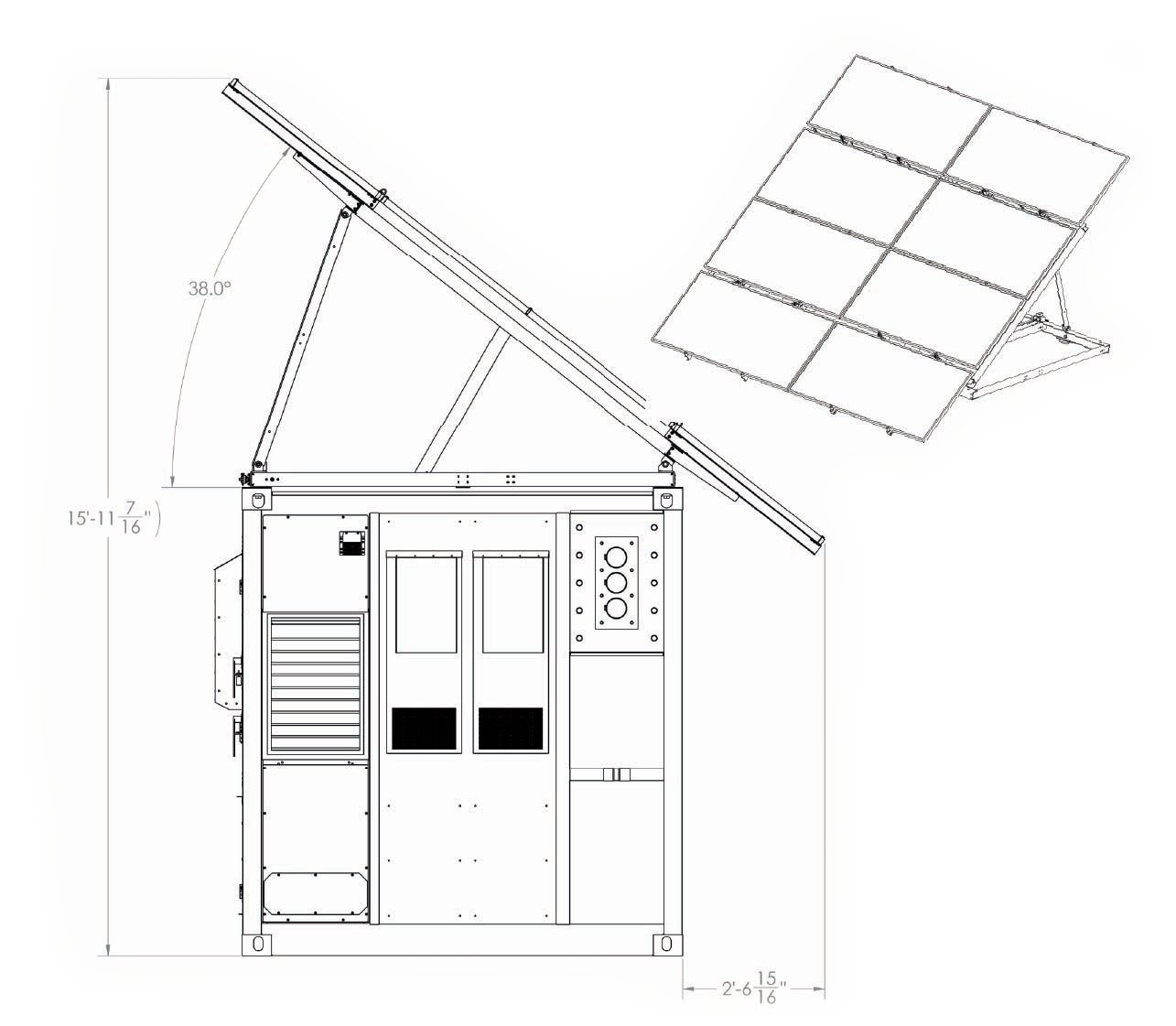 WIND TURBINE OPTION
Wind generated power with compartmentalized controls for power and energy storage. Attached to a rigid tower connected to the Hybrid Power Shelter deployed at a height of 50 feet.
TOWER ONLY OPTION
The 40' Tower is also available stand alone to accommodate customer antennas, microwave antennas, cameras or 5G installations. The tower can also be mounted on a pier or helical screw.
40' Height | 50' When attached to Shelter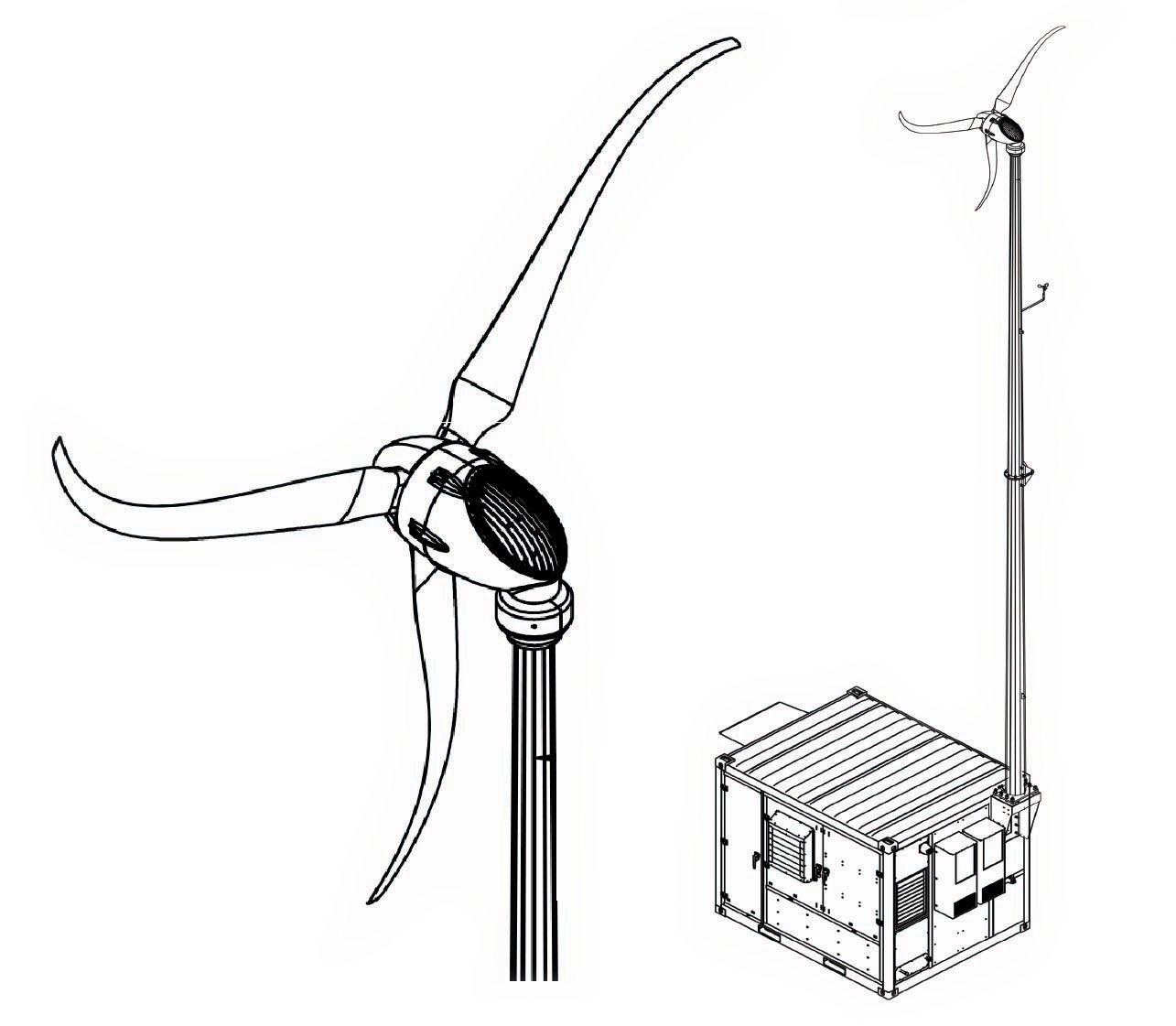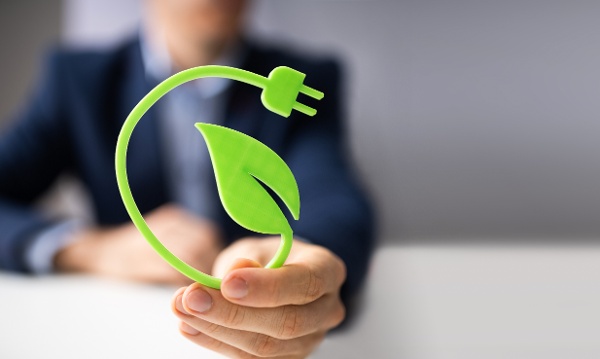 Schedule a Demo
Looking to find out how your business can maximize the value of our technology?
Schedule Demo