Reliable Hybrid Power Delivered Ready to Deploy — Anywhere

Zero-glitch Power Module™
HCI Energy's Zero-glitch Power Module (ZPM) ­is a smart, modern power management system that optimizes external and renewable power sources. It provides real-time, remote monitoring and delivers continuous power with integrated Lithium-ion batteries. Battery-first architecture ensures continuous power delivery with maximum flexibility.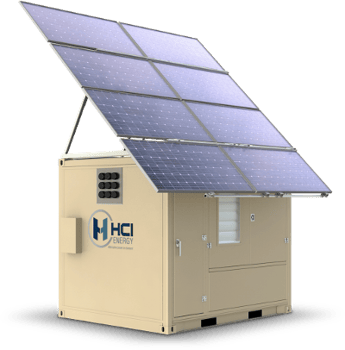 Hybrid Power Shelter™
HCI Energy's Hybrid Power Shelter — with integrated ZPM — is a turnkey powerhouse that incorporates everything necessary to bring continuous, reliable power to even the most remote and rugged locations. Whether pre-grid, on-grid, or off-grid, HCI's solution uses multiple energy sources to keep its lithium-ion energy storage at an optimal charge.